Mainsqueeze était en fait le backing band de Bo Diddley qui tourna dans les années 80. Ils n'ont publié à ma connaissance que deux albums live, l'un en 1983 intitulé Live at Ronnie Scott's Club mais sans Bo Diddley et l'un avec lui en 1986, Hey...Bo Diddley In Concert. Il est clair que le musicien le plus connu outre Bo Diddley était sans nul doute Eric Bell, premier guitariste de Thin Lizzy :
Live at Ronnie Scott's Club
EXIT1 Expulsion France - 1983
Recorded live at Ronnie Scott's Club, Frith Street, London WC2 on 15th January, 1983. Recorded and mixed by Tom Newman and Phil Newell on the Soundbox Mobile.
Produced by Mainsqueeze. Tour manager Richard McCloud.
Personel :
ERIC BELL Lead Guitar Vocals
DIANE WOOD Lead Vocals
DICK HECKSTALL-SMITH Saxophone
VICTOR BROX Vocals & trumpet
DAVE MUNCH MOORE Fender Rhodes piano, clavinet, Moog, Roland organ
JOHN O'LEARY Harmonica & Congas
KEITH TILLMAN Fender Bass
STRETCH Drums & Percussion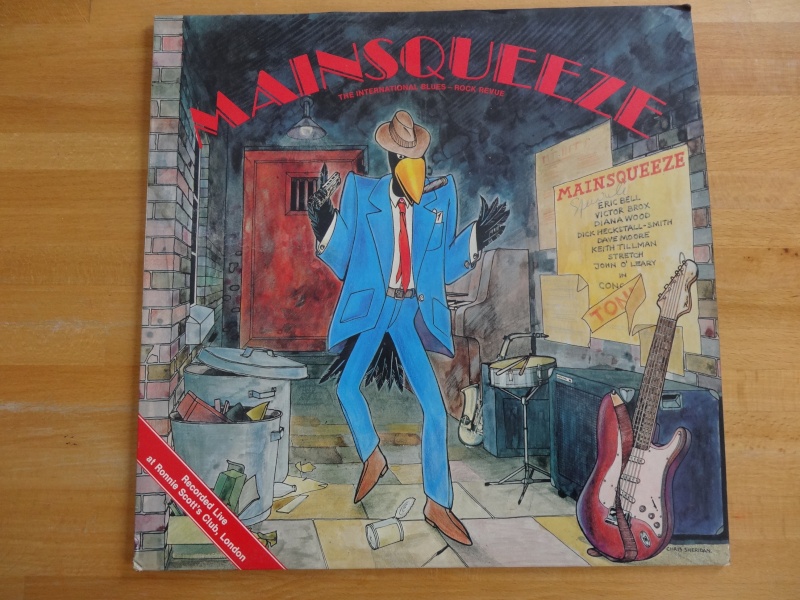 Récupéré en LP aujourd'hui même. Je l'ai cherché longtemps, cet album.
Hey... Bo Diddley In Concert
CFRC 507 - Conifer Records 1986
Recorded live during a European Tour of Bo Diddley. Mainsqueeze was the back band of Mr Diddley. Re-mastered by Dallas at Serendipity Studios.
Personel
Bo Diddley Lead Guitar, Lead Vocals
The King Eric BellGuitar
Dick Heckstall-Smith Sax
Dave 'Munch' Moore Keyboards
Keith Tillman Bass Guitar
Stretch Drums